Anthony LaPaglia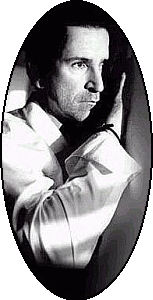 [d]
A consummate actor, Anthony LaPaglia has played a variety of roles ranging from gangsters and cops to a drunken boor and the proprietor of a record store employing a group of misfit teens. He is equally adept at portraying creepy bad guys as he is at tragically flawed heroes. His ability to fluctuate between heart-wrenching sorrowful gazes and comedic hijinx has landed him several prestigious awards, including the 2004 Golden Globe for Best Performance by an Actor in a Television Series (Without a Trace) and the 2002 Emmy for Outstanding Guest Actor in a Comedy Series (Frasier).
Although I've been a fan of Without a Trace since it began airing in 2002, my deep interest in Mr. LaPaglia came about when I conceived the character of Nick Fergessen in The Colonial Chronicles. I started out looking for pictures of his facial expressions to better capture them within the book, but ended up becoming a full-blown fangirl. Now I'm not only dedicated to finding a way to turn the book into a movie and have him play the lead role, but also to promoting him and all of his other projects. I believe that he may be one of the best actors I've ever seen, but he is woefully under-appreciated.
With most actors, even good ones, you can see some of the actor in the role. It doesn't matter, for instance, if Russell Crowe is playing a gladiator, a sea captain, or a mathematical genius; there's still a sense of Crowe hovering around the character. When LaPaglia plays a role, however - especially in his more recent films as his talent has deepened and his craft has become more perfected - it's far too easy to forget that he, the actor, is not the person we're seeing on the screen. Fans of Without a Trace often express a desire to hug Jack Malone when he's down while at the same time rejoicing that LaPaglia seems so happy during talk show interviews. Those who have seen LaPaglia play a bad guy frequently find themselves creeped out long after the fact, again despite realizing that the actor himself seems to be a pretty decent guy. He can deliver a malicious line with such intensity that the viewer cringes, but also smile so sweetly that fan hearts flutter.
Here then are pages and links to all of the information I've assembled about this fabulous actor:
Quick Find
Please note that as far as I've heard from other fans, letters and photo requests sent to LaPaglia's agents and show addresses are generally not answered. If you wish to try anyway, please see the Professinal Links below for addresses. Please do not email me asking for addresses.
---
Don't like my colour and font style? View this page in your default settings.
Page last updated July 8, 2007.
Email me at kimberly@kimberlychapman.com
---
If you want to receive notification of updates on any portion of this site, simply enter your email address here and click/select the button to enter. You will be required to sign up for a free Yahoo! account to complete registration. Please note that Yahoo!'s privacy policy and other management are outside of kimberlychapman.com's responsibility. Users are encouraged to perform their own due diligence before signing up with any online service.
To find out more about the list or read messages without signing up, please visit the Yahoo! page for the kimberlychapman updates mailing list.
---
For more information on what these tags mean, please see About KimberlyChapman.com.
Copyright © 2004 Kimberly Chapman. All rights reserved.