Main Cake Page - Cake Gallery - Discworld Tutorial - Orc Head Tutorial - Shelob Tutorial - Gummy Tutorial - Books - Links
---
The Biscuit Brothers 2010 Homestyle Holiday Hoedown
A huge cake donated to the Biscuit Brothers' 2010 holiday party. Each tier was covered in green fondant, then covered again in alterating right-side-up and upside-down fondant oak leaves that had been left to dry on curved flower formers. Dozens of tiny ornaments were sculpted in advance from fondant, all representing elements from the Biscuit Brothers TV show. Also added were holiday-themed sprinkles as filler ornaments. A piped line of green icing with multicolored candy-coated sunflower seeds worked well as Christmas lights. The topper was made out of butterscotch candies melted in a silicone star-shaped dish, with a melted candy cane cut with a note-shaped cutter, and the whole thing coated in confectioners' glaze. Bufords hanky garland is supported by a hidden wire inside.
d
d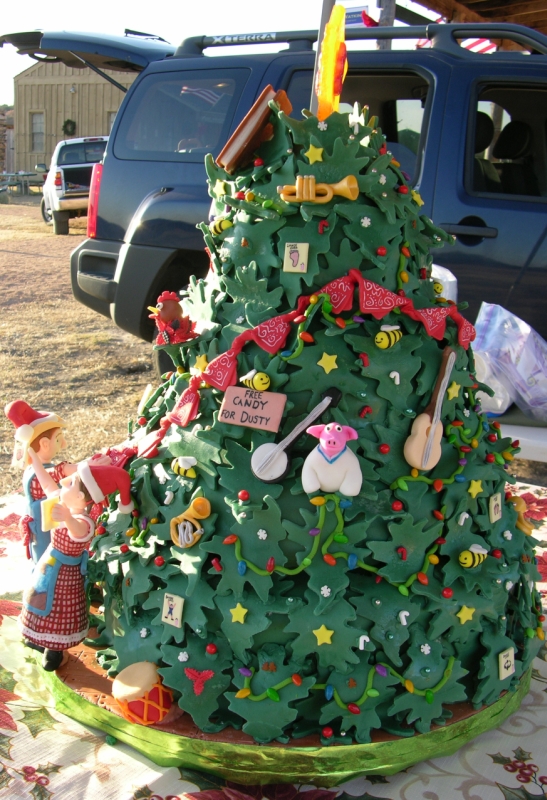 d
d
d
These photos are from before final assembly at the event. This first one shows detail of the Big Book of Music:
d
This is Stunt Banjo, one of our household's favourite Biscuit sketches:
d
These are the Sugar, Plum, and Larry from Escape of the Sugar, Plum, and Larry!:
d
Tiny Scarecrow's beloved bubble wrap was made by brushing gelatin onto a dimpled texture mat.
d
---
Main Cake Page - Cake Gallery - Discworld Tutorial - Orc Head Tutorial - Shelob Tutorial - Gummy Tutorial - Books - Links
---
Don't like my colour and font style? View this page in your default settings.
Page last updated February 15, 2012.
Email me at crafts@kimberlychapman.com
---
If you want to receive notification of updates on any portion of this site, simply enter your email address here and click/select the button to enter. You will be required to sign up for a free Yahoo! account to complete registration. Please note that Yahoo!'s privacy policy and other management are outside of kimberlychapman.com's responsibility. Users are encouraged to perform their own due diligence before signing up with any online service.
To find out more about the list or read messages without signing up, please visit the Yahoo! page for the kimberlychapman updates mailing list.
---
For more information on what these tags mean, please see About KimberlyChapman.com.