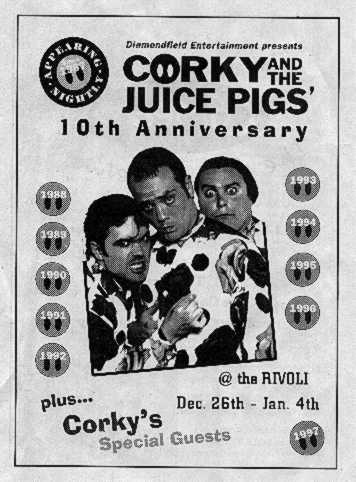 [d]
This is the message that appears in the Programme (shown above) from their performance at The Rivoli:
Hello People of Toronto,
Once again it's the Yuletide Season and Corky and the Juice Pigs welcome you to our Christmas Season at the Rivoli. We extend our thanks to you for your continued support over the past year. Sean was touched by your cards and letters after his cranium replacement operation. His cranium was replaced by a Black and Decker Workmate and he can really clench a plank firmly. Phil's bid to cross France wearing a sign saying "France Reeks of Crepes" once again met with failure. Greg is proud to announce that he is a little flower.
Yes, a productive year.
We welcome you to our Tenth Anniversary and hope you will join with us in celebrating a decade of fun and sizzling bacon. Where did the time go? Ten years on and what have we got to show for it? A featured place on MAD TV, awards and accolades from around the world, two CDs, but most importantly the adoration of you misguided people. Thank you for the ten years. We couldn't have done it without you. Well, we could have but we would have been ashamed of ourselves if anyone had walked in.
Happy Holidays.
From Sean, Phil, Greg and Corky
Page last updated in July, 2004.
---
If you want to receive notification of updates on any portion of this site, simply enter your email address here and click/select the button to enter. You will be required to sign up for a free Yahoo! account to complete registration. Please note that Yahoo!'s privacy policy and other management are outside of kimberlychapman.com's responsibility. Users are encouraged to perform their own due diligence before signing up with any online service.
To find out more about the list or read messages without signing up, please visit the Yahoo! page for the kimberlychapman updates mailing list.
---
For more information on what these tags mean, please see About KimberlyChapman.com.